Summit Teens love Jesus!
Grades 7-12
Teen Nights-Tuesdays, from 7-8:30 PM

Summit Teens Youth Ministry is here to enrich teenager's lives with the Word of God.
Our desire is to help teenagers know Jesus and to grow in their walks with God.
We are here to help teens navigate through difficult times and mature into adults who are strong in their faith.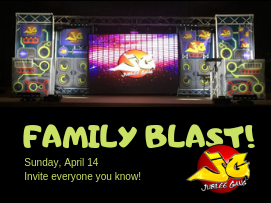 FAMILY BLAST WITH THE JUBILEE GANG
Saturday, April 14 at 10 AM

Jerry Moyer founded the Jubilee Gang in 1991 in his hometown of Portsmouth, Ohio. It was because of his desire to reach the children in the local housing projects and public schools that this internationally known ministry was founded. The same desires to reach the lost and to equip the church are the motivating factors of this ministry today. Since starting The Jubilee Gang in 1991 they have ministered in 44 States, Puerto Rico, Canada, and Russia and in over 30 different denominations and a host of non-denominational churches and have seen over 20,000 people born again during our events. The Jubilee Gang is an evangelistic ministry designed to all ages with the message of salvation through Jesus Christ.
What to expect
· High energy multi-media ministry for all ages.
· Expect to see lives changed and all in attendance challenged to a deeper walk with God.
· The Jubilee Gang is very interactive. Children won't just sit and watch, but will be given a chance to participate.
· High tech state of the art lighting system that includes hazers, laser lights, and robotic intelligent lights. Multi-media presentations that include video clips, power point, and interactive memory verse games on a six-foot by eight-foot video screen.
· Adrenaline Blasted nickelodeon style games.
· Hilarious skits with puppets and characters.
· Powerful object lessons and illustrated sermons that drive home the bible message of God's love
· Everyone in attendance will be given an opportunity to receive Jesus as their savior. We are an evangelistic ministry, not just entertainment.
For he raised us from the dead along with Christ,
and we are seated with him in the heavenly realms--all because we are one with Christ Jesus.
Eph 2:6-7 NLT